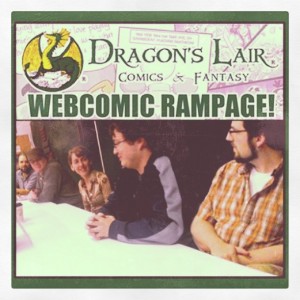 There is a special episode of the HE Podcast UP NOW. It is a webcomics panel recorded at the annual Dragon's Lair Webcomic Rampage event in Austin, TX. Enjoy!
It features myself, Danielle Corsetto of Girls With Slingshots, Jeph Jacques of Questionable Content, David Willis of Shortpacked and Randal Milholland of Something Positive.
If you like listening to friends tell stories about stalkers, shitty jobs and making a living doing what they love, I think you will appreciate this.
Here are some pics from the event on Flickr and Facebook.